JIS Brunei receives prestigious Energy Globe Award
Posted on 4th Apr 2022 in School News, Brunei Darussalam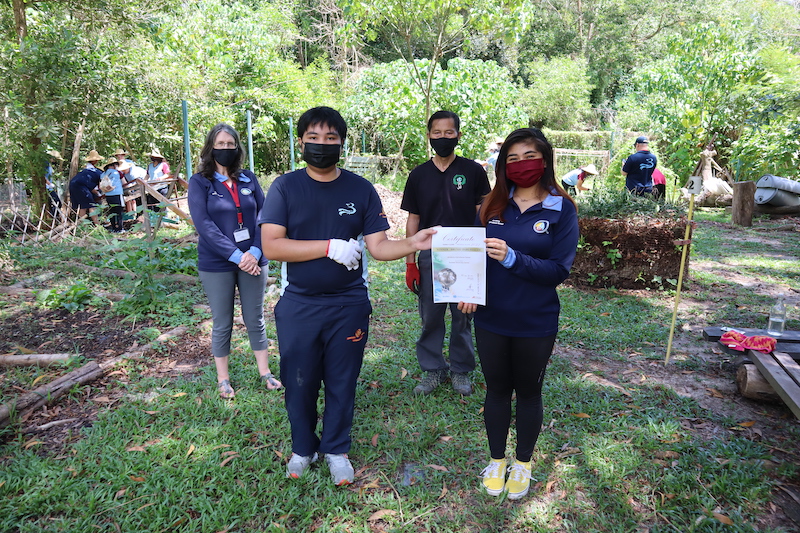 Jerudong International School (JIS) is proud to announce that the school has been recognised as a national winner in the prestigious International Energy Globe Awards 2021, for its outstanding work in the school's Outdoor Discovery Centre (ODC).
Principal Nicholas Sheehan said, "I am extremely proud of the School and the ODC team. This award is recognised globally as the most important award for sustainability worldwide. It recognises and validates the outstanding work of the school for the environment, here in Brunei."
The announcement was made at the Awards Ceremony in Kuala Lumpur on the 20th of December 2021.
The Outdoor Discovery Centre (ODC) is a 10,000m2 project space located within the school campus. The school has a wide range of projects and activities linked to the ODC. The award has been received for a project that counteracts increasing carbon emissions produced by international air travel and school buses through carbon offsetting. This is done through reforestation efforts that ensure the protection of Brunei's tropical heath forests, whilst replacing the invasive acacia tree species.
The ODC allows JIS students to discover and understand the importance of sustainable development via reforestation practices and to raise climate change awareness. Over the 5-year existence of JIS' Outdoor Discovery Centre, an estimated 11,000kg of carbon dioxide has been absorbed and over 40 trees have been planted.
A former JIS Head Girl who studied the IB at JIS under an MoE Scholarship, Jazie Zaini, is the ODC Coordinator. She said in her acceptance speech: "Jerudong International School would like to extend our thanks to the Bruneian Ministries who have supported and collaborated with Jerudong International School. In particular, the national Forestry Department who have donated trees to make this project possible, the University of Brunei Darussalam for giving our students the opportunity to collaborate on their Badas Peat Swamp Restoration Project, Green Brunei for inviting us to join their tree-planting projects and the Brunei Climate Change Secretariat for the continuous support and encouragement to us to achieve our nation's goals to foster awareness and increase education in matters pertaining to climate change mitigation and adaptation efforts in the education sector.
"We would also like to thank our Jerudong International School community for their time, energy, and help in the Outdoor Discovery Centre project. The progress and the educational impact we have seen since the centre first opened has been fantastic. Without the JIS community's support, the ODC would still be a barren wasteland but is now home to a thriving ecosystem and an important part of the curriculum and co-curriculum programme for students from Junior School through to the IB Diploma and A Level students."
Jaden Low, another alumni who has been working in the ODC following his graduation, said: "It has been personally fulfilling to work on a project for so long, especially during the formative years of my life. To work with peers, students, and staff on a collaborative project spanning half a decade has taught me many valuable lessons, and many more yet to learn. The Outdoor Discovery Centre is a project focused not only on rewilding and reforestation, but Youth Empowerment as well. The skills that students learn on such a project, especially in positions of leadership, will last a lifetime, and I can say that from experience. I am proud to see just how far the ODC has come. This award is definitely one of the highlights of my time at Jerudong International School."