JIS Brunei celebrates International Day
Posted on 9th Dec 2020 in School News, Brunei Darussalam, International Education
Jerudong International School (JIS) welcomes 1683 students from 55 nationalities daily; it is a truly international community with a Bruneian heart! International Day is an amazing event held each year, to encourage students to develop as a global community and celebrate each other's nationalities, cultures, customs and languages.
The International Day celebrations commenced with a parade by the Junior School students dressed in their national costumes followed by a mini tour of the International Day stalls. This was done in a slightly different way this year to adhere to social distancing regulations.
The Junior School parents play a tremendously important role in the way in which the Junior School students celebrate this day. The parents prepared and set up wonderful, educational and colourful displays about their home countries. The students enjoyed visiting the different stalls, playing games, tasting traditional food and learning about their friends' home countries. The countries represented at the stalls in Junior School were Australia, Brunei, China, Germany, India, Indonesia, Japan, Malaysia, Mozambique, Japan, Mozambique, Nordic (Sweden, Denmark, Iceland, Finland), Philippines, Qatar, Singapore, Thailand, the UK and Venezuela. It was wonderful to see the Junior School community play such a vital role. Students and the JIS Community also enjoyed watching traditional Brunei dances from Warisan Budaya, Silat and Wushu demonstrations by members of the Brunei National Wushu team.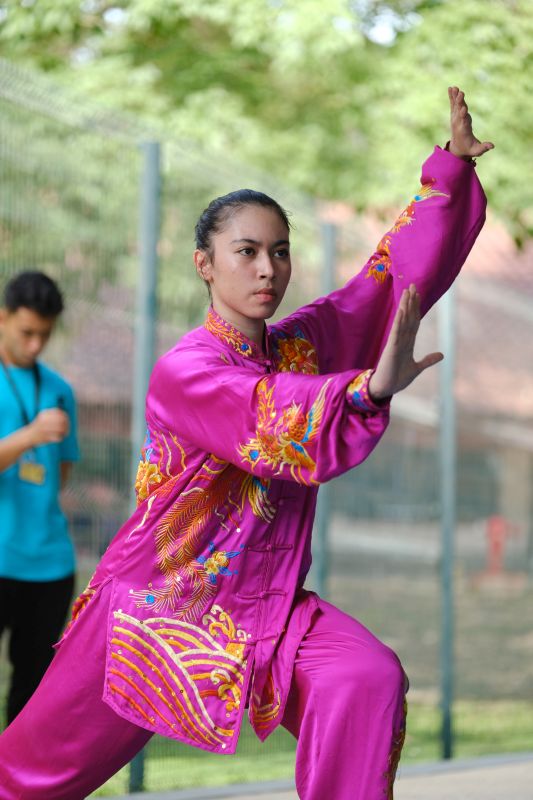 This year, International Week celebrations in the Senior School focused on the theme of 'Teaspoons of Change' and the Sustainable Development Goals (SDG). Students were challenged to make a small personal choice, decision or action that contributes to a positive impact on people or the planet. We can double our impact as global citizens by not only thinking about doing good for others but also by considering the indirect impact of our everyday choices and actions. Participation in dressing up in their national costumes for International Day required students to donate a minimum of $2 to start their own 'Teaspoon of Change'. JIS is proud that all money raised on International Day will be donated to charities supported by the School.
The Senior School students started their day with a one hour session on 'Internationalism' and what it means. At break-time, a number of the senior students took advantage of the time to visit the Junior School parents' exhibition. Principal Mr Sheehan, wearing a vibrant UK Union Jack jacket was delighted to meet so many from the community.
The sixteen Senior School Houses embraced the challenge of the SDGs by creating a green 'business product'. These were then sold at a range of stalls over the lunchtime. These included a thrift stall where students could purchase preloved books, clothes and other items; Pandan Chiffon Cake and Blue Lemonade - made using the Butterfly Pea flower and Pandan grown by the students in the school's Outdoor Discovery Centre (ODC)! Honey ice cream was offered by other students using honey harvested from their stingless bee hives at the ODC. Other students used the Butterfly Pea Flower to make sustainable hand soap! Mini Gardens - recycled glass jars containing 'very cute plants' were prepared and sold by other students.
In addition, at lunchtime, the senior school students enjoyed a mini cultural festival, hosted and organized by the Upper Years Council. This included cultural dances and singing performed by senior school students. Both the Junior and Senior School students were entertained by soldiers from the Pipe Band of the second Battalion Royal Gurkha Rifles (2RGR). The soldiers also performed an outstanding display of their skills through their famous Khukuri dance. Both acts gave a fantastic performance and Jerudong International School is extremely grateful for joining us to celebrate International Day.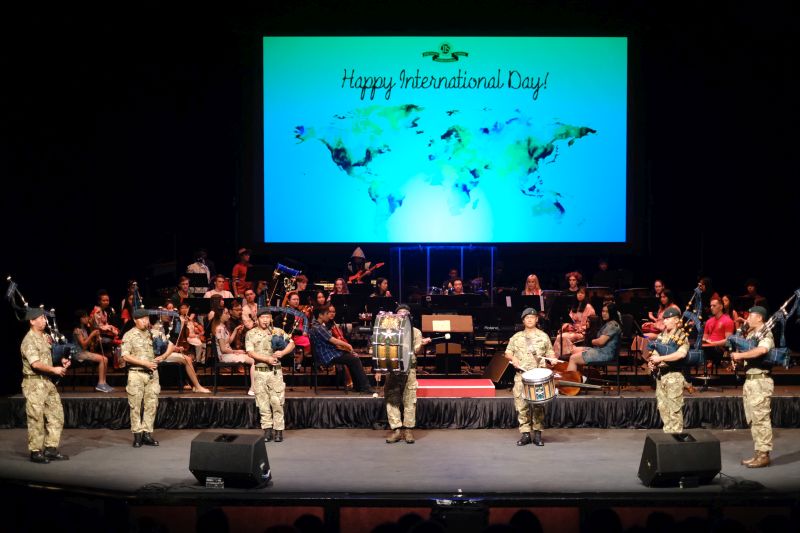 In the afternoon, the Music department hosted an International Day performance themed "Music from Around the World". This included a performance from the Royal Gurkha Rifles Pipe Band, Gurkha Khukuri dance, the senior school Jazz Band performed their interpretation of the award-winning Jazz piece by the Brecker Brothers, 'Some Skunk Funk', an orchestral piece called 'The Planes Suite' by English composer, Gustav Holst and a medley of traditional pieces by Irama Bahtera Group, with the melodies from the 'gulingtangan' and the accordion, showcasing Brunei's traditional music at its best.
Principal, Nicholas Sheehan, said "In a very challenging year, it was wonderful to have a day where, as one community, we could lift our focus and celebrate together. We are so very grateful to the Ministry of Education and Ministry of Health for all their advice and support which enables us to do this."