Jerudong International School students excel in UK Intermediate Maths Challenge!
Posted on 14th Mar 2023 in School News, Brunei Darussalam, Mathematics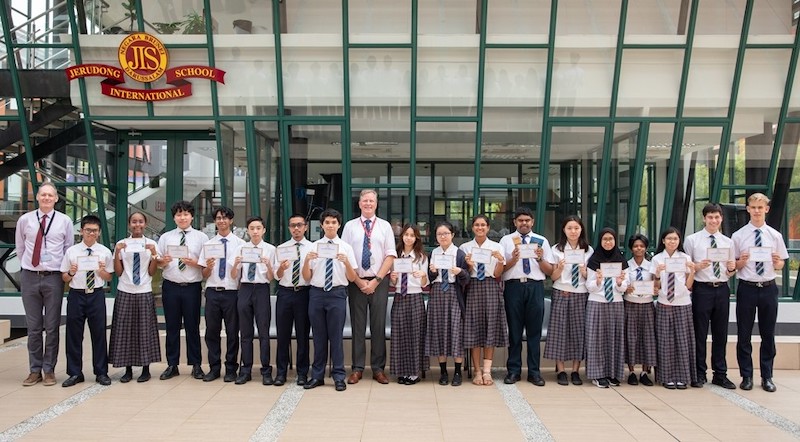 One hundred and twenty-six Jerudong International School (JIS) students from Years 9 to 11 recently took part in one of the UK's most popular national maths competitions, the Intermediate Maths Challenge (IMC), run by the United Kingdom Mathematics Trust (UKMT). Students in these academic years were encouraged to participate, although it was purely voluntary for them to do so.
The challenge is aimed at students in Years 9 - 11 (ages 13-16 years) and involves answering twenty-five multiple choice questions in sixty minutes - without a calculator! It is a paper designed to stimulate interest in maths for a large number of students. The questions are aimed at testing students' mathematical dexterity - their ability to apply the mathematics they have learnt in class in unusual and creative ways.
The top 50% of students internationally receive a Gold, Silver or Bronze award in the ratio 1:2:3. The school is delighted to announce that this year, Her Royal Highness Princess Ameerah Wardatul Bolkiah, received a Gold Award - the highest award level, together with a further eighteen students.
Principal, Nicholas Sheehan, congratulated all of the students who participated: "Developing resilient problem solvers is at the heart of what we try to achieve as a Maths Faculty at JIS - this is exactly what the IMC is all about. The challenge encourages mathematical reasoning, precision of thought, and fluency in using basic mathematical techniques to solve interesting problems. I am very proud of all of those who took part and especially those who managed to gain a certificate - well done!"
Gideon Chan was awarded 'Best in Year 11', Amelia Ege was awarded 'Best in Year 9' and Lemuel Dhanushan Chinniah, Year 10, was awarded 'Best in School'. Twenty-eight students received a Silver award and forty students received a Bronze award.
The IMC Coordinator, Mr Thacker, explained: "I was extremely pleased with the results this year, particularly with so many more students taking part in the challenge and 69% of the students achieving at least a Bronze Award."
Maths at Jerudong International School is a core subject which all students study up to the end of Year 11 (IGCSE programme). The most talented mathematicians are able to also study for the Further Pure Mathematics IGCSE. In Sixth Form, those students wishing to continue their Mathematics studies can study Maths and Further Maths A Level. The IB Diploma students all study Maths at either the Standard Level (Either the Analysis and approaches course or the Applications and Interpretations course) or Higher Level Mathematics Analysis and Approaches course.