In the Spotlight Sessions at EU Business School: The Recipe for Success in the Restaurant Business
Posted on 27th Apr 2018 in University Study, Spain Tweet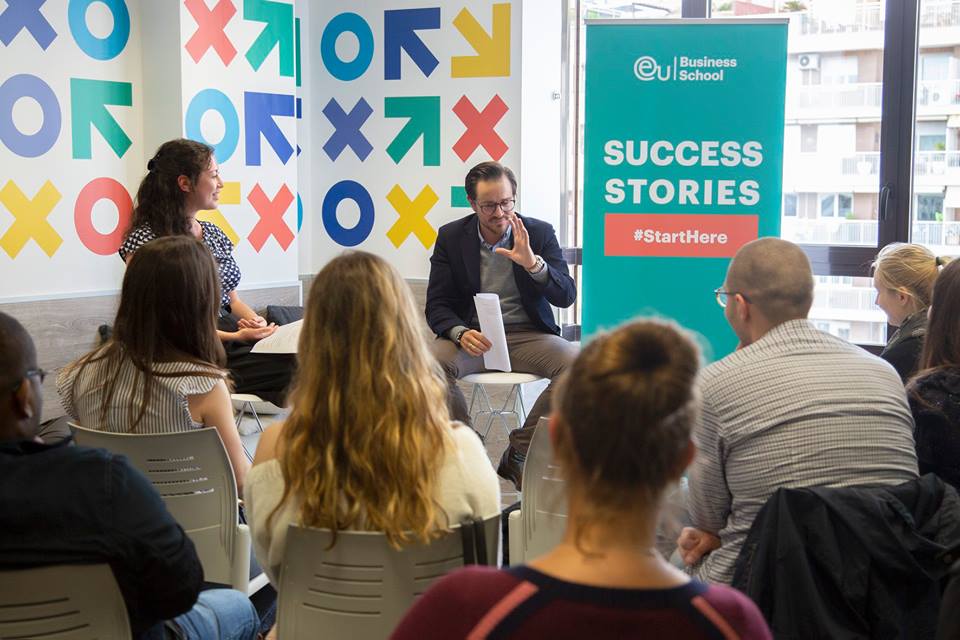 While business education is generally associated with whiteboards, textbooks and lectures, business schools have realized they need to stay ahead of the curve and adapt their curricula to meet emerging trends and provide students with the skills and tools to navigate today's rapidly changing, globalized business world.
In this vein, EU Business School (EU) recently launched a series of intimate guest speaker sessions titled 'In the Spotlight'. During these lively sessions, business leaders and influential figures are invited to campus to offer their words of wisdom to a small group of students.
In April, EU invited Jordi Barri, CEO and co-founder of Barcelona's most popular healthy eating establishments Teresa Carles and Flax & Kale, to share his recipe for success with students.
Mr. Barri opened his first Barcelona restaurant, Teresa Carles, with his family in 2011. The restaurant quickly made a name for itself thanks to its healthy yet tasting offerings, excellent customer service and stylish decor. It did so well in fact that in 2014, Mr. Barri, along with his mother Teresa Carles, opened their second Barcelona establishment, Flax & Kale, this time focusing on flexitarian cuisine. Today, the Teresa Carles Healthy Foods brand has no less than five establishments around the city.
The event got underway with an interview conducted by EU student Michelle Lopez. Afterwards, students had the chance to put their questions to Mr. Barri in a dynamic Q&A session. From running a family business to setting up a restaurant business from scratch, he had several pearls of wisdom to share.
How to succeed in the restaurant business
According to Mr. Barri, it takes a combination of things to succeed in the notoriously tough restaurant industry. These include price-quality ratio, marketing, communications, interior design and location.
"First and foremost, you need to have a good product. After you've got this, marketing strategy is key. I think social media is an amazing tool, particularly Instagram, for those in the restaurant business. You need to invest in a community manager and a photographer to really create engagement," he explained. "I think it's all about creating a strong brand that people feel connected to. Their first experience in your restaurant needs to be amazing so that they return, and they tell their friends. Word of mouth is huge in the industry."
Standing out from the crowd
Mr. Barri explained that one of the biggest challenges in running any business is finding and retaining the best staff. "We're not interested in employees who only care about profits and shareholders, we want people who care about what we're doing. We're always on the lookout for talented people who will be an asset to our team," he said. "When I interview people, I always ask them 'why do you want to work here?', 'how will you make an impact?' I'm looking for people who are passionate, who want to work hard, learn and grow. They need to show me that they're capable and excited about working with us."
Passion is key
During the Q&A session, a student asked Mr. Barri his views on the importance of having a good work/life balance. He explained that when you're running a family business and the money you invest is your own, failure simply isn't an option. "You have to be willing to work hard, particularly when you first start a business, and make the most of every opportunity. You need to be truly passionate about what you are doing. Only then will all the hard work be worth it."
Words of advice for budding restaurant owners
To conclude the first part of the session, Mr. Barri provided some fantastic advice to students hoping to make it in the restaurant industry, highlighting the importance of working hard and conducting market research. "If you want to set up a successful restaurant, you need to have a solid strategy. Start by analyzing the market, see what's already out there. If you want to start a tapas restaurant in Barcelona for instance, there are already a lot out there. Ask yourself 'am I going to be better than my competitors?', 'can I offer something different?'. You also need to think about operations. You need to maintain quality every single day, you need to change the menu now and again – you have to keep on top of everything. So, analyze the market, make a business plan and then I wish you the very best of luck!"