Ideas that shape your world start here
Posted on 14th Aug 2017 in University Study, Qatar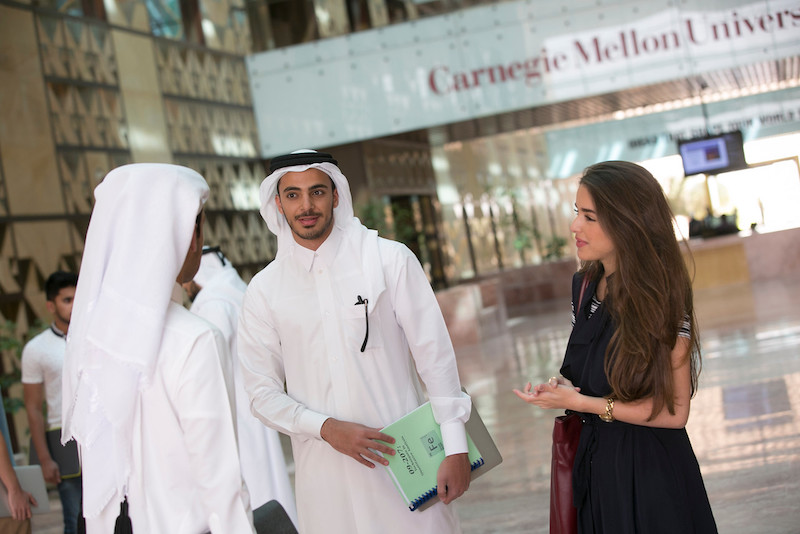 Carnegie Mellon University attracts a certain type of student: motivated, inventive, and driven to make a difference. Students come to Carnegie Mellon to learn, create and innovate with the very best. They leave with the passion, connections, credentials and lifelong friends who will help them change the world.
Work that matters
For more than a century, Carnegie Mellon University has challenged the curious and passionate to imagine and deliver work that matters. A private, global university, Carnegie Mellon stands among the world's most renowned educational institutions, setting its own course with programs that inspire creativity and collaboration. Consistently top-ranked, Carnegie Mellon has more than 13,000 students and 100,000 alumni worldwide.
A world class education in Qatar
At the invitation of Qatar Foundation, Carnegie Mellon joined Education City in 2004 to deliver select programs that will support and contribute to the long-term development of Qatar. Today, Carnegie Mellon Qatar offers undergraduate programs in biological sciences, business administration, computational biology, computer science, and information systems. .
Programs of study
CMU-Q offers undergraduate programs that are ahead of the curve, in fields at the forefront of technology, innovation, scientific discovery and economic growth. All undergraduate majors require four years of full-time study, after which students earn a bachelor of science degree.
Biological Sciences: The undergraduate degree in biological sciences uses interdisciplinary approaches to provide students with both intellectual breadth and depth of exposure to modern research biology. Students enhance their undergraduate laboratory learning through discovery-based research. The research experience helps students apply the critical thinking and problem-solving skills they learn in the classroom.
Business Administration: The degree in business administration is based on the Carnegie Mellon model of management science, developed more than 50 years ago, that emphasizes analytical decision-making in complex business environments. The program emphasizes a quantitative, analytical approach to the core areas of accounting, finance, economics, marketing, operations, management information systems and business communications.
Computational Biology: At the forefront of scientific discovery, computational biology is driving advances in biomedical imaging, genomics and proteomics. Carnegie Mellon realized the potential early on, offering one of the first degree programs in the field. A selective and rigorous program, the curriculum is grounded in the disciplines of biology and computer science, with a strong component of physical science and mathematics.
Computer Science: Carnegie Mellon's School of Computer Science is one of the world's top-ranked programs; for decades, CMU graduates in computer science have been driving powerful advances in the field. Throughout their education, students acquire skills that transcend technological trends. The program provides the fundamental skills to develop new technologies: mathematical reasoning, algorithmic thinking and programming. A strong theoretical component provides the formal tools to remain current as technologies change.
Information Systems: From programming to project management to creating new ventures, the field of information systems uses technology to generate, process and distribute information. Information systems professionals work in a variety of settings to analyze how things connect and work together, whether virtual or real, from small processes to large organizations. They design new ways to address problems and challenges, and implement ideas that improve productivity and efficiency.
Learn by doing
Students at Carnegie Mellon Qatar learn beyond the classroom through a slate of unique enrichment opportunities. Most students choose to study abroad during their four-year education, and many travel on academic trips that enhance classroom work. Students who intern receive on-the-job experience, which adds an important dimension to their undergraduate education.
Research is part of the fabric of a Carnegie Mellon education. Students engage in a wide variety of research endeavors, such as independent studies, senior and honors theses, summer internships and funded projects as junior researchers.
Small campus, big spirit
The CMU-Q student body is exceptionally diverse, representing 40 nations. Students form a busy and active community, participating in clubs, organizing large-scale events, traveling for service and academics, and competing in local and international contests. The low student-to-professor ratio means students receive unparalleled individual attention.
Graduates who make a difference
Graduates from CMU-Q are highly sought-after: most choose careers in top organizations, while a significant number pursue graduate studies at international institutions. With ten graduating classes, the total number of alumni is nearly 700.
CMU-Q alumni are a growing influence, with most working in industry and government in Qatar and the region. You will find our alumni in organizations like Ooredoo, Qatar Airways, Qatar Shell, McKinsey and Company, KPMG Siemens and ExxonMobil. In the budding entrepreneurial sector in Doha, CMU-Q alumni are a driving force, creating startups, mentoring current students and contributing to an emerging community of young innovators.
Follow us:
Twitter: @CarnegieMellonQ
Instagram: @carnegiemellonq
Facebook: CarnegieMellonQ
YouTube: CarnegieMellonQatar
To learn more, visit www.qatar.cmu.edu