ICS London strengthens partnership with 'Arts International'
Posted on 29th Apr 2022 in School News, Arts, United Kingdom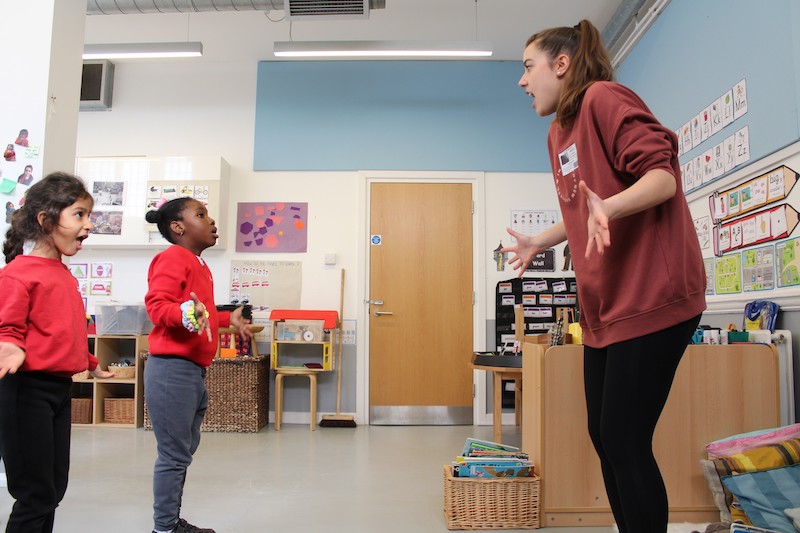 ICS London recently experienced an exciting second round of residencies with its performing arts partner 'Arts International'.
ICS London is committed to providing students with first-class teaching and learning opportunities in performing arts and, through this partnership, primary and secondary students have access to leading performers from West End theatres, TV and film. The organisation has developed a bespoke programme to help ICS London's students grow in confidence, using performing arts as a vehicle for developing skills in self-presentation, performance and movement. Exposing children and young people to performing arts is not only beneficial for students aiming to develop a career in the arts, but also for everybody as this experience will bring to our students confidence, creativity and collaboration.
The first round of residencies called 'Finding Your Voice' was launched in November 2021. This programme was based on introducing Dance, Drama, Public Speaking and Singing to students based on Globeducate's four key principles:
We Deliver Educational Excellence
We Develop Skills and Competencies
We Build Character
We nurture Global Perspective.
During these workshops, ICS London primary school students, aged three to 11, worked with West-End actress Anna Unwin to develop their performing talents in preparation for a 'Winter Wonderland' show. Anna has worked on a number of West End and TV productions.
Secondary students had a focused week of activity with Claira Vaughan. Claira is a movement coach and has worked with actors such as Rami Malek who played Freddie Mercury in Bohemian Rhapsody and more recently, Bond villain Safin in No Time To Die. Claira has also been a long-term advisor on the Netflix show, The Crown.
Arts International came back to ICS London at the end of March to develop further students' ability to perform around three themes: Sound and Rhythms, Drama, and Story Telling. Students worked on them through a whole week of activities around Dance, Vocal/Singing and Acting/Spoken Words.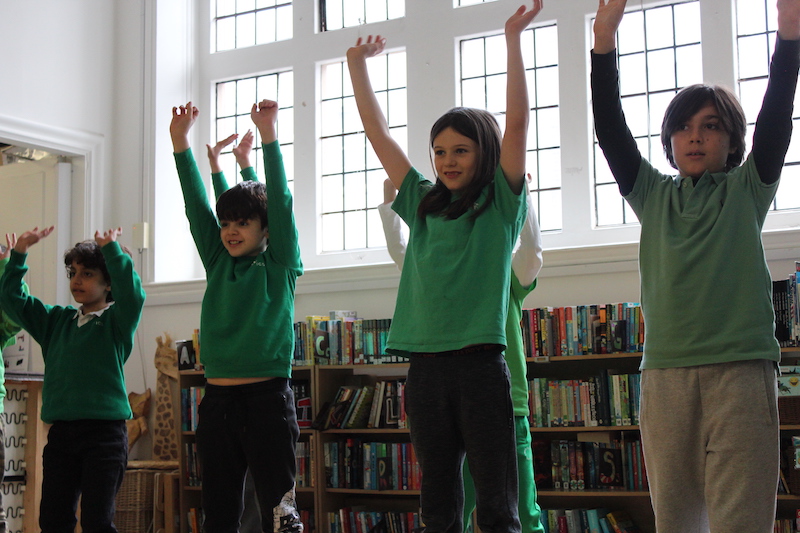 In ICS London Primary School, Arts International started the new residency with a special event called Treble Makers. This is an interactive music lesson that encourages the children to sing, dance, shake and, move along to popular songs that they know and love. They grow in confidence whilst exploring song, harmony, beat, rhythm, and movement. Following this introduction, Sam Lathwood, dance captain in the West End production of Mary Poppins joined them along with Anna Unwin, Hayley and Thomas, all West End performers. Students from Reception to Year 5 put together a show in just 4 days including Dance, Drama and Singing. The show called 'Kings of the Animals' was created to show the human impact on the environment and the animal wildlife. It challenged our students and parents to look after our planet, by presenting the wonderful biodiversity we have here: The Ocean ('Under the Sea' performed by Reception/Year 1), The Desert ('Aladdin' performed by Year 5), The Jungle ('Two Worlds' from Tarzan performed by Year 4) and The Wind ('Colours of the Wind' from Pocahontas performed by Year 2 and 3).
Anna Unwin from Arts International, leading the Primary School activities said: "Working within ICS London has been an incredible, joyful experience. Arts International's work at ICS London is not only about producing high-level performances to inspire students and parents but also about developing each student's confidence, creativity, collaboration and care for one another. These skills are important for those students looking for careers in the performing arts as well as for our future medics, engineers, lawyers and consultants. Seeing the determination and hard work of the students as they begin to find their voice and use it to shape their future has brought about some of the highlights of my year. ICS London's community is wonderful, diverse and unites together to create spectacular performances."
In ICS London Secondary School, Amy Jessop, Creative Director & Performance Coach for clients all over the world led the second residency. She was the lead singer in the world tour of Mamma Mia and We Will Rock You. She came with Rachel John, Lead Singer in The Bodyguard, Sister Act, The Lion King and Hamilton, for which she received an Olivier nomination for her role as Angelica. Students worked on the musical Hamilton for 3 days. After discovering the story behind this musical and its political meaning, they experienced Public Debate themselves, allowing them to improve their Public Speaking skills. Finally, they worked for a few days on their own lyrics and on how to perform their song/rap/spoken words, based on the 'Cabinet Battle' from the musical. Supported by Amy and Rachel, students performed their song and dance at the end of the week.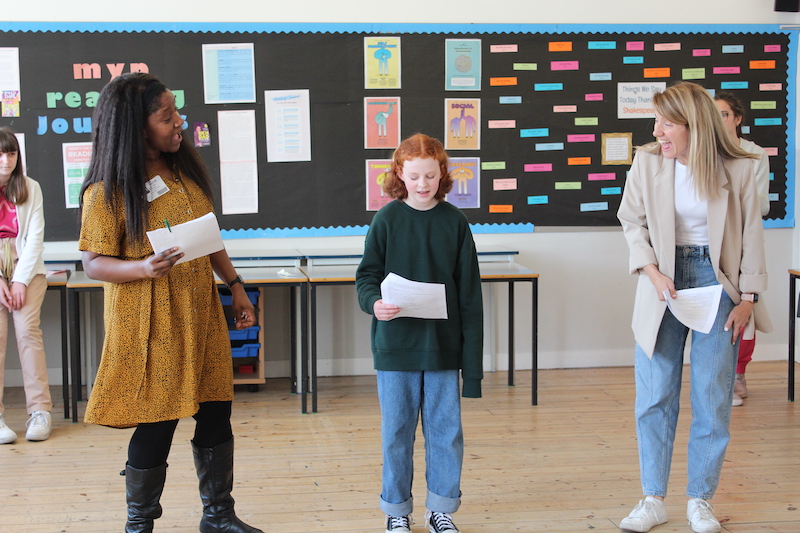 Amy Jessop, leading the Secondary School activities, said: "It was so inspiring to work with the students of ICS London. West end star Rachel John and I spent four days with students studying material from the Lin Manuel Miranda musical Hamilton. Each student wrote their own rap battle that focused on a certain debate topic or social challenge. By the end of the week every student was taking part in a fun and creative presentation of their written work. They demonstrated creativity, collaboration, confidence and caring. The students achieved an amazing transformation in just four sessions and we experienced some real breakthrough moments with students who, previously, had found it difficult to share their voice, own their space and speak on a public platform."
Head of School David Laird at ICS London has worked closely with Antonia Giovanazzi, Executive Principal of ICS Milan and Executive Principal of ISN Nice, Mel Curtis, to enhance Arts provision as part of the STEAM programme in the ICS group.
Antonia Giovanazzi, Executive Principal of ICS Milan, said: "The Globeducate STEAM programme has been fully embraced by our ICS schools. We know that Arts education is critical for encouraging creativity and innovation in our students, and for helping them to develop self-confidence and presentation skills, as well as empathy, compassion, cultural awareness and appreciation, and for their physical and personal development. These are all transferable skills that students can carry across to any subject – reinforcing our core values of developing well-rounded students and preparing each student to become a global citizen who can shape the world."
Dr Andrew Lee, Director of Arts International, said: "We are all looking forward to working again with students and teachers to have a dramatic impact! During the first year of our partnership we are working on programmes that focus on Globeducate's key principles, educational excellence, building character, developing skills and competencies and nurturing a global perspective. We know that students today rely on digital access to knowledge but their future success depends on how they apply their knowledge and skills, and character. This is where we are targeting our challenge and support."