How to get into the world's best universities
Posted on 4th Sep 2020 in School News, University Study, Vietnam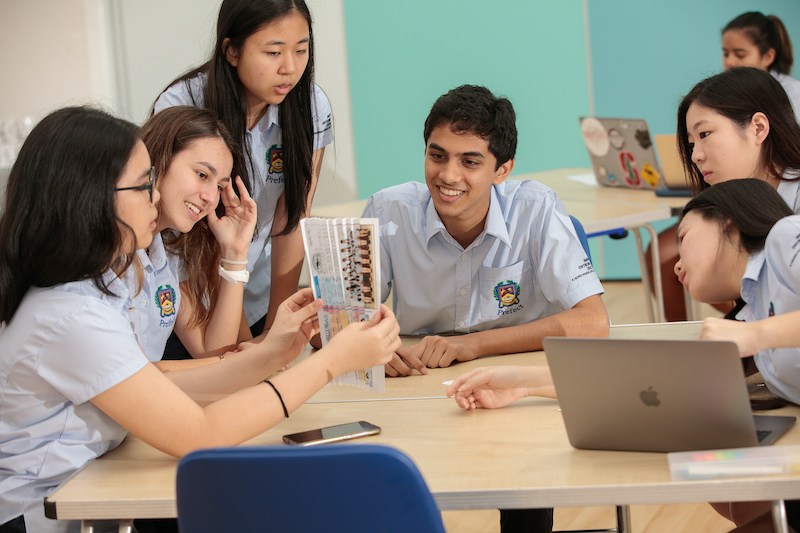 Dr Simon Finnigan, Senior University Guidance Counsellor at the British International School Ho Chi Minh City, shares his top tips...
Since our first graduating class in 2008, the British International School Ho Chi Minh City has seen hundreds of students accepted to the world's highest-ranked colleges and universities. In this article, we look at which features of an international school education have empowered our students to access these top universities, achieving their ultimate goal of learning with the world's best.
In terms of process and requirements, applying to leading universities differs from country to country but there is a common thread to those applications that are successful. They require a blend of academic excellence, demonstration of potential for growth and engagement with the broader school community.
Academic excellence
The foundation of any successful admission to a top university is a stellar academic profile. For QS Top 10 ranked institutions students will need mostly A* and a few As at IGCSE, 43-45 IB Diploma points and an equally strong SAT (1450 minimum) for those applications that require a standardized test. Therefore when searching for an international school it's essential to look at the school's academic record as a baseline for your decision-making process.
Academics are just the start however. Leading universities with entry requirements that filter only the brightest and best still have a huge number of applicants for places and use other aspects of the application to identify suitable candidates.
Passion and skills
US universities attempt to create campus communities – students with a diverse blend of interests, backgrounds and skills – that will collaborate and thrive together. In the words of an admissions representative from the University of California, universities want to know "who will add value all over the campus – in the lab, on the sports field, on the stage, in the orchestra pit or by being involved in societies and clubs. We want students who are thinkers but also doers."
US universities will often set multiple short application essays with reflective or philosophical titles. This is the perfect opportunity for your child to demonstrate who they are as an applicant beyond grades and academic achievement, showcasing their engagement in broader activities outside the classroom setting.
In the UK, the UCAS Personal Statement serves a similar purpose. This student writing is the chance for your child to demonstrate important transferable skills – leadership, innovation, communication, resilience – with concrete examples that provide a picture for the admissions team. It's important to note that for the UK, the focus is academic rather than holistic, reflecting the fact students apply for a specific course rather than to a university as is the case in the US. The Personal Statement is therefore an opportunity to convey real passion for their chosen subject.
It's therefore crucial that your child engages with a range of co-curricular activities so they can reference these in their applications. At BIS Ho Chi Minh City, we have over 200 activities at the Secondary Campus including sports teams, musical performances, a diverse range of community-centred projects, Model United Nations, F1 in Schools and other activities that help our students to grow as thinkers, leaders, collaborators and contributors. Through this strand of school life, they develop key skills and gain the experience of creating and developing projects, many of which benefit the school and broader communities. Cedric Chua, Head Student of the BIS Class of 2020 and a recipient of offers from UCLA and UPenn comments: "Through 15 years at BIS, the one constant has been the school's commitment to learning beyond the walls of the classroom. The plethora of cross-curricular activities at BIS – whether it be swimming for the BIS Barracudas, performing with the Chamber Orchestra, or tutoring underprivileged youth – has widened my perspectives and allowed me to explore my various interests."
Dedicated University Guidance Team
Having a dedicated team to guide your child through the university application process is also a key factor in application success.
Here at BIS, all year groups receive provision that relates to careers, college and decision-making, including input and material relevant to IGCSE and IB option choices. From Year 11 onwards, students have access to the powerful Bridge U platform and a programme of bespoke research tasks that facilitate preparation for the application process that begins in Year 12. During their IB Diploma, students continue to use Bridge U and their research and decision-making is supported through the wealth of specifically-created and curated online content and resources. Extensive feedback is provided on application essays and personal statements and frequent, detailed staff training and the expertise of our team results in recommendations and references that show the true strengths, capacity and potential of our students.
Parental support
As a parent, you can help your child to access the world's top universities in a variety of ways but perhaps the most important is frequent, open discussions about the possibilities on offer and potential decisions. Be realistic about the range of considerations that are relevant to university applications and attendance and engage with the aspirations and plans of your child.
One BIS parent of a current Year 13 student explains: "It is important to aid rather than dictate and support the plans and dreams of your child. Open communication with your son or daughter about the potential pathways is key and discussion of your own experiences or those of friends and family often helps as the prospect of leaving school and beginning university can be daunting for students – and families. The most important thing, after all, is the wellbeing of your child, and regular, open communication is perhaps the surest way to ensure that students and families have a united approach to what can be a very demanding and uncertain process."
This article first appeared in John Catt's Guide to International Schools 2020/21, which you can view in full here: