Globeducate Eco-Schools pledge sees continued success with three new green flags!
Posted on 17th Jun 2021 in School News, France, United Kingdom Tweet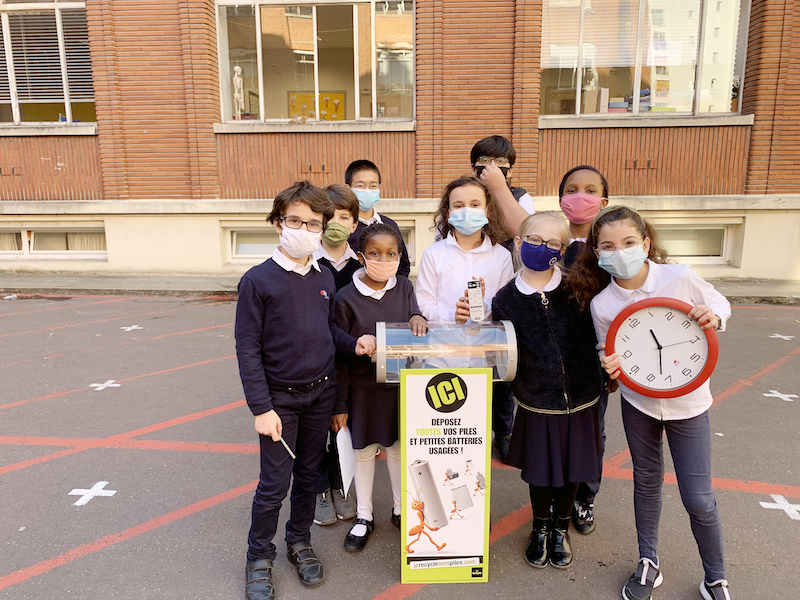 Three Globeducate schools in France and the UK achieved Eco-Schools status in June, signalling the global education group's continued commitment as a group to promote sustainability across our global community and address the United Nations Sustainable Development Goals for 2030.
Bee-keeping and hens laying eggs, plastic reduction schemes, meat-free weeks and installing water fountains and recycling bins are just some of the initiatives that have taken shape in Globeducate's schools as a result of student-led sustainability audits and collaboration with fellow students, teachers and support staff. Stonar School also launched a "Make the Switch" campaign – members of the school's Eco-Committee researched green energy companies and shared information with the whole school community, encouraging them to switch to green energy providers at home.
Eco-Councils led by students in Stonar School, near Bath, ICS Paris and EIB de la Jonchère, Paris, are all celebrating being able to fly the green flag of Eco-Schools, which is the world's largest sustainability education programme. Between 2020-2022, all 55 Globeducate schools in nine countries are working towards Eco-Schools status and this recent success marks the sixth school to achieve this recognition. Globeducate's TIPS schools in India have all received a special Covid-19 "HandPrint" Project seal, and Blyth Academy campuses in Canada received a special seal for the year 2020 and progress during the pandemic. Five Blyth Academy campuses and Toronto Prep School have recently submitted their end of year assessments at levels from Participant to Gold.
Education Director for Globeducate Oanh Crouch said: "During Covid-19 school closures, many schools quickly adapted and moved their Eco-committee meetings and action planning online – progress and continued action did not stop. Plans were adapted, changes made and as schools opened again, teachers and students were creative in overcoming the challenges which the pandemic presented them with by holding committee meetings outdoors and in socially distanced environments. It has been very rewarding to see the continued effort and determination our school communities have for this programme. Students have opportunity to engage and participate in numerous ways; by joining in activities and through celebrating global awareness days and fundraising efforts. Combined with our work ongoing initiatives with our global partner WWF, we are truly becoming a global community of change-makers, and shaping the future."
Chiara A., Year 13 student from Stonar School's Eco-Council, said: "Being on Stonar's Eco-Council is a great way of making a positive change on our school community. The Green Flag award from Eco Schools is recognition of all of the hard work we have done this year and hopefully it will inspire many other pupils in the school to continue the good work that has been started."
Pramod Kumar Sharma, Senior Director of Education for Eco-Schools Global said: "The relevance and importance of a programme like Eco-Schools that focuses on positive actions are being realised globally. We can not sit in despair and give up, education has to play a critical role in creating an agency with the right knowledge of actions that support in both mitigating environmental challenges and create resilience. Young people are not future decision-makers but change-makers now. We have to provide them with the space to engage and transform themselves and the communities they live in."