Global Service Travel boosts sense of empathy in students
Posted on 5th Nov 2019 in School News, Netherlands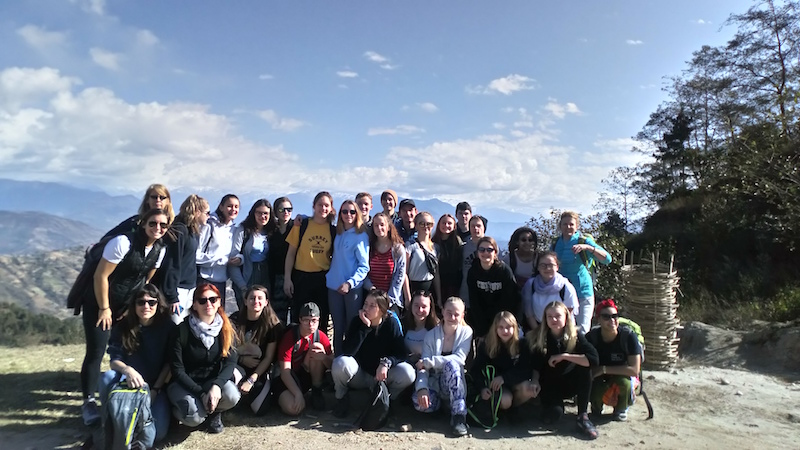 Franne Van der Keilen, Director of Institutional Advancement at American School of The Hague in The Netherlands, explains a program designed to nurture world-minded leaders...
Each year, American School of The Hague (ASH) Middle and High School students travel to destinations around the world as part of our Global Service Travel Program where they learn about themselves, about collaboration, and how to lead effectively. These students spend their winter break working with local teachers in Nepal, building homes through Habitat for Humanity in Portugal, strengthening school infrastructure in Tanzania, studying the legacy and memory of the Holocaust in Poland, and organizing extra-curricular activities for children of migrant workers in Thailand.
The saying 'Tell me, and I will forget. Show me, and I may remember. Involve me, and I will understand', acknowledges the depth in learning we experience after sensing. It promotes learning through direct experience and taking much of the responsibility for the production of knowledge and understanding. The ASH service learning program is an obvious example of experiential learning. Aligned with the curriculum, it offers opportunities for students to research, study and build the skills and competencies required to address validated social and environmental needs both near and far.
The Global Service Travel program in the high school runs year-long with a week of international field service at the site of our designated partners. This on-site service experience forms the culmination of each team's preparatory work including bi-weekly meetings on leadership and team building, issues research, sustainable solutions brainstorming activities, service work planning and travel logistics coordination. They also engage in contextual research and develop strategies for becoming global ambassadors for their work with the local partner.
Students must give the program thorough thought before applying, as it requires of them a year-long commitment, an open mind, an emotionally and mentally strong disposition, and a willingness to work hard and be compassionate and positive leaders. Successful applicants are in good standing academically and behaviorally and will reap plentiful learning outcomes from investing in the program. Most importantly, they will have a strengthened sense of empathy.
Our younger students also develop an understanding of social and environmental issues and receive plentiful opportunities to connect the skills and competencies they develop at school with genuine community needs. This year, for example, our youngest learners taught the song 'I've got Peace in my Fingers' to their peers in the Early Childhood Center, while our 5th Grade scientists spent a day working at a nature reserve that is one of the last local natural habitats of the Eurasian skylark.
As they grow older, ASH students become more involved with exploring and addressing local community issues and take on more responsibility in groups or individually for planning service initiatives, picking up new challenges, working collaboratively with community partners and engaging with a variety of issues. A group of Grade 9 students, for example, created a Beach Clean Up Team, going out every week to pick up litter along our local beach and using the collected trash to raise awareness about environmental issues.
Gradually, our students evolve from being sideline observers to active participants in tackling community needs. What distinguishes service learning from volunteering or community service is the melding of the service with the learning, where students simultaneously learn and apply their learning to real-world contexts and reflect on their engagement. 'Service learning provides an authentic educational experience,' explained an ASH student participant. 'It is a chance to expand the classroom to the world. I am thrown into a new environment that challenges my perceptions, teaches me empathy better than anything else can, and encourages me to push myself further than what I ever imagine is possible.'
This article first appeared in the 2019/20 edition of John Catt's Guide to International Schools. You can read the digital version of the guidebook here: