GEMS International School Tropicana Metropark achieves record breaking IGCSE results
Posted on 18th Aug 2021 in School News, Exam results, IGCSE, Malaysia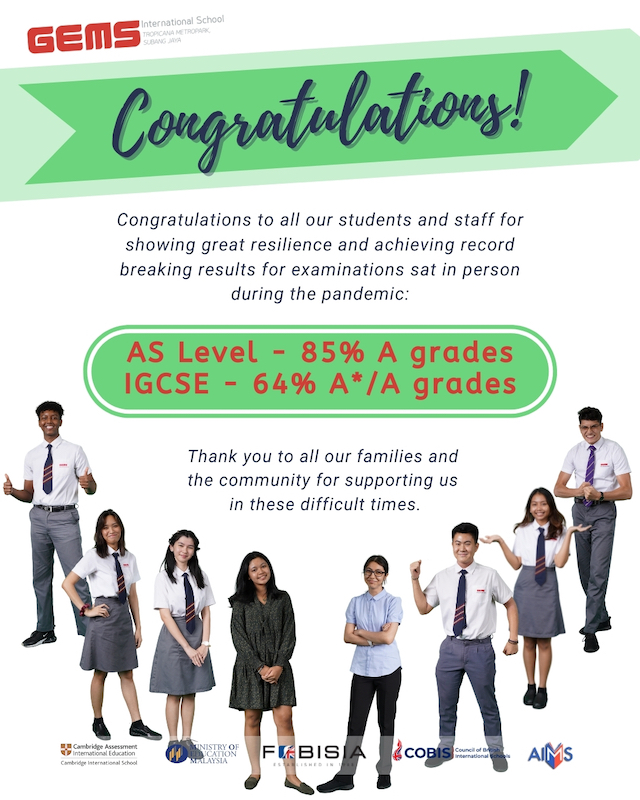 GEMS International School Tropicana Metropark are delighted to be able to celebrate record-breaking IGCSE success with our students. The results reflect the hard work and determination shown throughout this difficult time from Year 11.
Examinations were taken in May and June of this year, under extraordinarily difficult circumstances with Malaysia under lockdown. Students, families and staff navigated road blocks, and immense personal pressure in some cases, to fully take their papers in person.
The results also reflect the support that parents have given and the tuition of our dedicated teachers, who have gone above and beyond to ensure that students achieve their very best, despite unprecedented circumstance. These are significant achievements and ones for which we are incredibly proud.
Some overall highlights from their wonderful achievements are:
64% of the total grades achieved by the examination cohort were A* or A
143 A* grades and 103 A grades
56% of students achieved 5A*-A grades
94% of students achieved at least 1 A*/ A grade
94% achieved 5 A* - C inc English and Maths qualifications
Subject specific celebrations are noted with:
94% of students achieved A*-A in Additional Mathematics
68% of students achieved A*-A in Mathematics
Three students scored 99% in Mathematics and one student achieved 98% in Additional Mathematics
75% of students achieved A*-A in ICT
71% of students achieved A*-A in English Literature
66% of students achieved A*-A in English
74% of students achieved A*-A in Biology and Physics
79% of students achieved A*-A in Chemistry
70% of students achieved A*-A in History
73% of students achieved A*-A in Economics
100% of students achieved A* in Music
Mr Anthony Partington, Principal, said: "We are enormously proud of the IGCSE students and their teachers for this achievement, especially during the pandemic. They have shown great tenacity, adaptability, as well as superb academic excellence. This is another record breaking set of results of which we are immensely proud."
Mrs Fleming, Head of Secondary, said: "The results are a credit to the hard work and commitment of our students and staff. It has been an incredibly challenging 18 months for this group of students, however, this shows our students are resilient and determined to achieve. Congratulations to everyone on their excellent achievements. We look forward to continuing study through A Level with some students and wish those who are moving on the very best of luck in their new adventures."
For more information about our school please visit https://metropark.gems.edu.my/