Further celebration for King's College, Soto de Viñuelas as they receive their best academic results in history for A Levels and (I)GCSE's
Posted on 24th Aug 2020 in School News, Exam results, A levels, IGCSE, Spain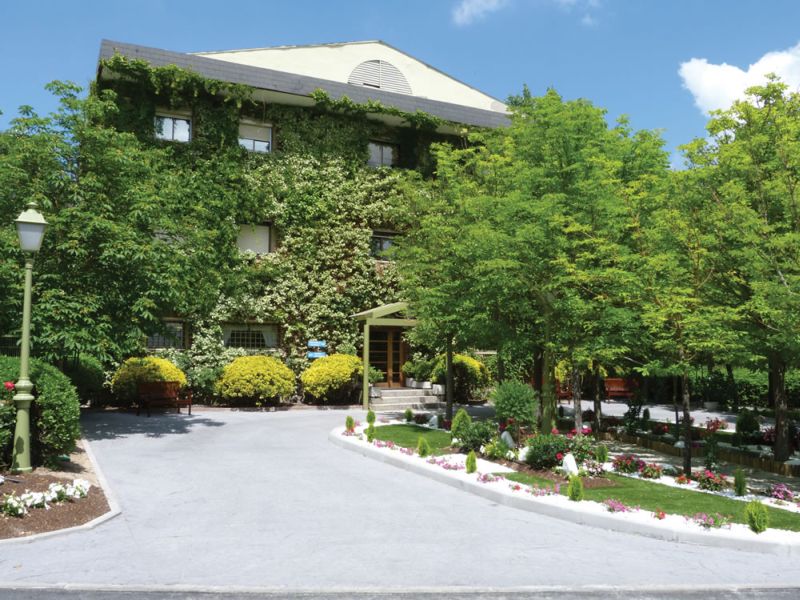 Pupils from King's College, The British School of Madrid have excelled in both their A Level and (I)GCSE exams, with pupils setting new records for the school and securing places in top Higher Education institutions across the globe, including 58 who will attend the UK's Russell Group, 2 of whom will go on to study at Cambridge, plus 2 at America's Ivy League.
Students are celebrating a memorable A Level & (I)GCSE results day. With an impressive percentage of entries, 64%, awarded A*-A grades and an even more remarkable 31% top A* grades at A Level. The school's students have set new records this academic year, including an incredible 85% of entries awarded A*-B at A Level.
Year 13 graduates from King's College have subsequently received offers from the World's Best Universities including:
Two students, Carmen R and Daniel O, will be studying Engineering at the University of Cambridge
12 students will be going to other World Top 10 institutions including: Imperial College London and University College London
58 students have confirmed places in elite UK RussellGroup universities, including such world leaders as Edinburgh, London School of Economics, King's College London, Manchester, Durham, Bristol or Warwick.
Alejandro H will be the first King's College student to begin an undergraduate degree at Cornell University, a member of the legendary Ivy League.
Isabel C will be the first student from our school to join the joint programme offered by Columbia University USA and Trinity College Dublin.
Other students are going on to attend prestigious places in the USA include Inés M Berkeley, Juan who will attend Duke University and Pablo B at San Diego Miramar
Closer to home, the school also have students who will be studying at Spain's finest universities, including the Autónoma de Madrid, Universidad Complutense de Madrid, Carlos III, ICADE, IE and the Universidad de Barcelona.
Internationally, other students will go on to such exciting future programmes in the best universities in Thailand & Bulgaria.
Due to the massive changes in the UK grading system this year, a number of other excellent students await further good news regarding their own university placements over the next few days.
Mr Matthew Taylor, Headmaster at King's College Madrid added; "In this difficult examination season it is wonderful to see once again how well King's College pupils have performed. The amazing results of this year are a testament to our pupils work effort and dedication, and the professionalism of King's staff. It is particularly significant, that pupils have achieved these amazing results in a year so disrupted by school closures caused by COVID19. Congratulations to our A Level pupils. I wish them every success at university as they take the next step in their education. A great set of results at the end of this challenging 2020 school year."
Mr Paul McNally, the school's Secondary Career Advisor, commented; "In a most difficult year, we are immensely proud of all of our Year 13 leavers in 2020, who have worked very hard and with such enthusiasm – even during lockdown via their uninterrupted online lessons – in order to maintain their very high standards in learning and contributions to school life."
The grade success was repetitive for those students in Year 11 who took their (I)GCSEs this year. An incredible 42% of students awarded A*(9-8), 61% of students were awarded A*-A (9-7) and 99% awarded A*-C (9-4.
One student Jimena A obtained the highest grade of 9 (A* equivalent) in all nine of her subjects. Her father commented; "First of all, I would like to share our happiness with Jimena's IGCSEs results. I'd like to highlight that this would not have been possible without the monitoring, support and accompaniment from King's College which Jimena has had throughout the school - but especially during the last months where the COVID19 pandemic has changed everything. Jimena's results fill us with pride, but at the same time create a very important challenge for us to be able to work with her in choosing the best possible university to maximize her full potential."
Mr Matthew Taylor commented; "Wonderful GCSE results. Our pupils go from strength to strength and this is most impressive in this COVID19 impacted year. Pupils at King's have made the most of the opportunity to engage in active online lessons, every lesson, through the school closure period and these great results illustrate how much King's pupils have progressed this year. I congratulate all of them on their success, and look forward to welcoming our new year 12 into their IB and A Level programmes in September 2020. Something to really celebrate! Congratulations to all the GCSE pupils at King's."
The results themselves are even more impressive considering the turbulent academic year that all schools across the globe faced due to the COVID19 pandemic. Thanks to an unprecedented online, live and continuous e-learning system, coupled with the amazing resilience of students, inspirational education and strong support of their teachers, they have been able to continue with their studies and have been greatly rewarded.
Working hard behind the scenes was the leading premium schools group Inspired Education, of which King's College is a member. Back in March, facing the escalating temporary school closures taking place across the globe, the leading education group leveraged its technology and e-learning capabilities and prepared 'virtual' schools, ready to continue delivering education to more than 45,000 students across its global network of more than 64 educational institutions in Europe, Asia, Latin America and Africa.