ESF students on top of the world
Posted on 15th Jan 2020 in School News, IGCSE, Hong Kong, Exam results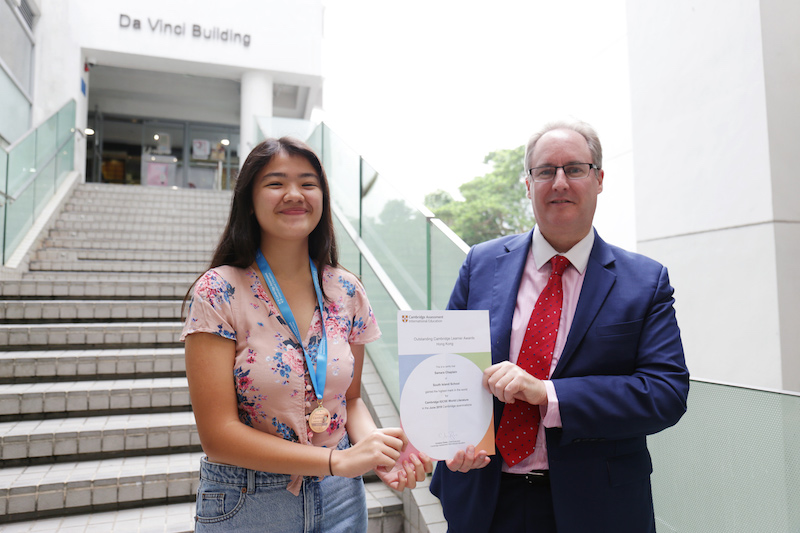 From the left: Samara Chaplain, student of ESF South Island School; Tom Vignoles, Principal of ESF South Island School
"ESF offers a world-class education, and we have world-class students," the organisation's Chief Executive Officer, Belinda Greer, said today.
She was speaking as Cambridge IGCSE released their results for 2019. Three Hong Kong students, all from the English Schools Foundation (ESF), achieved world best results.
"ESF has cemented its place as one of the world's leading education systems," said Belinda Greer.
"All these awards demonstrate the high standard of our students across Chinese as a Second Language, Co-Ordinated Sciences, English as a Second Language, International Mathematics, First Language Korean, Foreign Language German, Thinking Skills, Drama, Global Perspectives, and World Literature."
"We have seen young men and women at all levels, in all of our schools achieve great success today. When a family chooses ESF for their child's education we make them a very simple promise: all of us will work every single day, in every single class to help every single student be the best that they can be. These results show that we are making good on that promise."
ESF Director of Education, Adam Hughes, joined Belinda Greer in congratulating the students:
"That we continue to achieve results of global significance is down to the hard work of the students, but also to the quality of the teachers, leaders and support staff we have in our schools."
"At ESF, our team believes in helping every child reach their potential. Across all of our schools, students will be celebrating today with their friends and their families. I could not be any more proud of them."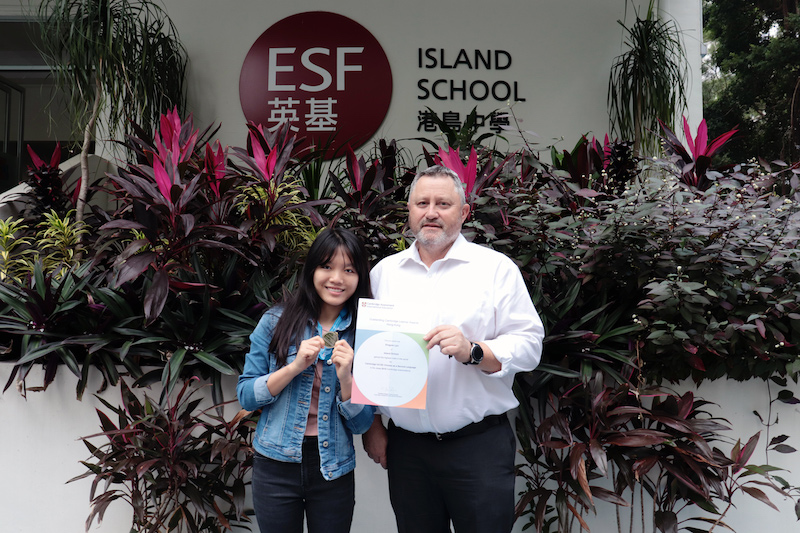 From the left: Xingyao Lyu, student of ESF Island School; Stephen Loggie, Principal of ESF Island School
Cambridge IGCSEs are subject-based qualifications administered by Cambridge Assessment International Education, part of the University of Cambridge. Taken in over 145 countries and taught by over 5,500 schools worldwide, the exam is recognised by leading universities, further education institutions and employers around the world as evidence of academic achievement.
Crowned top of the world in World Literature, Samara Chaplain from ESF South Island School credited commitment, strategy and passion for her success:
"If you can apply the issues presented in the text to the current world, which you will be able to, it makes it feel much more real, relevant, and important; and therefore easier to write passionately about."
This year, 9 students from ESF performed at a level far above the global average. They include:
Top in the World Awardees
Samara Chaplain, ESF South Island School (World Literature)
Tsz Yan Lee, ESF Sha Tin College (International Mathematics)
Xingyao Lyu, ESF Island School (Chinese as a Second Language)
Top in Hong Kong Awardees
Sha Tin College
Cody Yik Lam Lau (English as a Second Language (Speaking Endorsement))
Tsz Yan Lee (Co-Ordinated Sciences (Double Award))
West Island School
Freya Michael Mcgrath Boerner (Drama)
Samuel Tian Chi Scroggie (Global Perspectives)
High Achievement Awardees
King George V School
Adrian Chan (Foreign Language German)
Heewon Doh (First Language Korean)
West Island School
Yi Hern Saw (Cambridge International AS Level, Thinking Skills)