Do all international schools offer an international education?
Posted on 10th Sep 2019 in School News, Curriculum, Teaching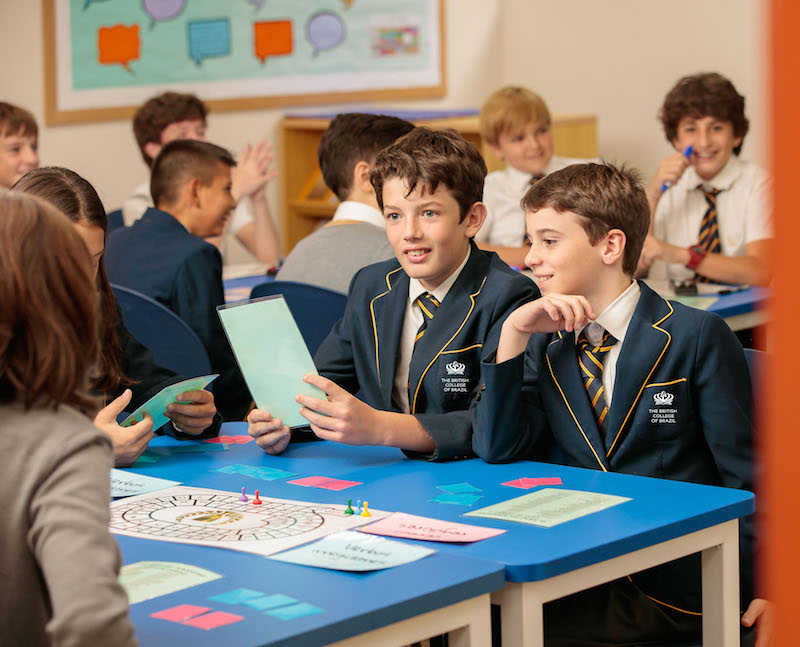 International education has evolved and so too must schools
Small changes can create big results. Ask teachers Timothy Jones, Kaye MacIver and Anita Burgess, who by adjusting their teaching to cater to students struggling with English as a first language, have recognised and responded to a major shift taking place in international education. A development they would not have identified or appreciated without deeply studying the sector through the Master's in International Education degree programme by King's College London.
The opportunity to study the master's course is offered exclusively to all Nord Anglia Education employees, regardless if they are part of the teaching staff, as part of ongoing professional development studies. A two-year course, the MA International Education combines theory, evidence and opportunities for participants to share and learn from one another's experience of working in international schools.
Timothy Jones, a teacher from the British College of Brazil, has been earning his MA International Education from King's College London through Nord Anglia Education's professional development program. This experience has transformed his understanding of education in this sector. "As a relatively new field of research within education studies, I feel like I am involved in the vanguard of research and understanding the context in which international schools work. The course shines a light on international schools from an institutional perspective, as well as that of the students, staff and families who are the stakeholders of international schools," states Mr. Jones.
Mrs MacIver, Assistant Head of Secondary at the British Vietnamese International School in Hanoi, said she wants to design a curriculum that works for her students:"I need to see how I can support them more effectively in the classroom. This is what parents want from our schools."
Ms Burgess, an English teacher at The British School of Beijing Sanlitun, said she saw a similar issue in her classroom. After undertaking the master's programme, she is also focussing on how to better teach her students English as an additional language. "I have changed my every day teaching to include teaching an enhanced set of vocabulary specifically for EAL learners," Ms Burgess said. "I now have a greater understanding of their needs."
It also encourages participants to rethink both the challenges and prospects they face within the context of technological advancements, cultural diversity and globalisation – three key areas that affect the education offering international schools must provide as the demographics and needs of students entering NAE schools change.
Nord Anglia Education chief executive Andrew Fitzmaurice said the response from staff who have completed the course was so positive he decided to enrol himself into the programme as part of the third cohort.
Not only did he want to experience a core part of NAE's professional development offering, he said he wanted to better understand and appreciate what teachers experience too.
"Any broader understanding of the environment you're operating in is going to be helpful," Mr Fitzmaurice said.
Having acquired a large amount of practical experience in his role over the past 16 years, Mr Fitzmaurice said studying topics that delve into how the curricula is designed and what skills will be required by 21st century learners, has helped him consider the rapid growth of the international education sector and what NAE can do to help train teachers to keep pace with it.
"It's thinking about what we are doing to make sure we not only have the right teachers, but how are we helping to develop them," Mr Fitzmaurice said.
Jason Ng, a mathematics teacher at the British International School of Boston agrees. "The course has made me understand more about the students and families we cater for, whether they are expatriates, locals or globally mobile families," he said.
Those who apply for the master's must study alongside their jobs, which includes participation in online readings and activities up to 10 hours a week, as well as webinars that are scheduled together with other staff in similar time zones. Two four-day face-to-face residentials also take place, giving the cohort from various NAE schools and offices the opportunity to meet.
"You can't deny the benefits of being able to meet and interact with other Nord Anglia employees across the globe. I have been able to learn more about international schools simply by talking to colleagues about their own experiences within the organisation," Ms Burgess said.
"I met so many inspiring people. People I will always be in contact with," Mrs MacIver said.
Ms MacIver, Ms Burgess and Mr Ng are part of the first cohort of this International Education master's programme. The entire group, which achieved a 100 per cent pass rate from the course, will be celebrating their graduation at a ceremony in London this month.
Meanwhile, a third group of students are already into the swing of things, having successfully completed their first semester and their first residentials event at KCL last month. "The course has provided insight into an array of topics being researched within the field of international education and offers scope for participants from different areas of the school to learn and pursue research into areas that reflect their personal interests, profession or background," says Mr. Jones.
This article first appeared in the 2019/20 edition of John Catt's Guide to International Schools. You can read the digital version of the guidebook here: