Create the future
Posted on 22nd Nov 2019 in University Study, Germany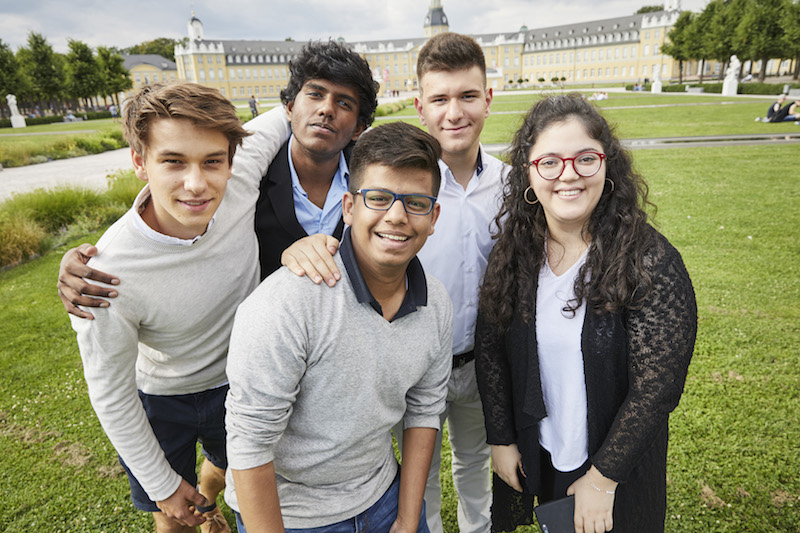 Alan Cordell, International Recruitment Manager at the Carl Benz School in Germany, explains why studying Mechanical Engineering offers great opportunities...
Mechanical Engineering is the most diverse subject that derives its scope from the need to design and manufacture everything from small individual parts and devices (e.g., microscale sensors and inkjet printer nozzles) to large systems (e.g., spacecraft and machine tools). Your job as a mechanical engineer is to make a product from an idea and bring it to the marketplace. In order to accomplish this, a broad range of skills and knowledge are needed. At the Carl Benz School of Engineering, students are challenged with the latest know-how in the exciting field of Mechanical Engineering.
Mechanical engineers must understand the forces and the thermal environment that a product, its parts, or its subsystems will encounter; to design them for functionality, aesthetics, and the ability to withstand the forces and the thermal environment they will be subjected to; and to determine the best way to manufacture them and ensure they will operate without failure. Perhaps the one skill that is the mechanical engineer's exclusive domain is the ability to analyze and design objects and systems with motion.
Disciplines of Engineering
Since these skills are required for virtually everything that is made, Mechanical Engineering is perhaps the broadest and most diverse of engineering disciplines. Mechanical engineers play a central role in industries such as:
Automotive (from the car chassis to its every subsystem—engine, transmission, sensors)
Aerospace (airplanes, aircraft engines, control systems for airplanes and spacecraft)
Biotechnology (implants, prosthetic devices, fluidic systems for pharmaceutical industries)
Computers and electronics (disk drives, printers, cooling systems, semiconductor tools);
Microelectromechanical systems, or MEMS (sensors, actuators, micropower generation)
Energy conversion (gas turbines, wind turbines, solar energy, fuel cells)
Environmental control (HVAC, air-conditioning, refrigeration, compressors)
Automation (robots, data and image acquisition, recognition, control)
Manufacturing (machining, machine tools, prototyping, microfabrication)
Learning Mechanical Engineering
To put it simply, Mechanical Engineering deals with anything that moves, including the human body. Mechanical engineers learn about materials, solid and fluid mechanics, thermodynamics, heat transfer, control, instrumentation, design, and manufacturing to understand mechanical systems.
With a B.Sc. in Mechanical Engineering (International) at the Carl Benz School of Engineering, students have the possibility to specialize in either Automotive Engineering, Energy Engineering, or Global Production Management. Alongside of their studies, students can also experience AI and Industry 4.0 through the unique industry-training program "Smart Factory@Industry". Within this training program, students get an exclusive insight into the genuine execution of an Industry 4.0 idea and can begin to prepare themselves for the future job market.
Having a degree in Mechanical Engineering enables graduates to be successful in the many branches of engineering. The American Society of Mechanical Engineers (ASME) currently lists 37 technical divisions, from advanced energy systems and aerospace engineering to solid-waste engineering and textile engineering.
Diving Deeper into Industry 4.0
Industry 4.0 manufacturing strives to create connected technologies that can even operate without human supervision, and can even provide a warning before a malfunction arises. The four principles of Industry 4.0 are interoperability, information transparency, technical assistance, and decentralized decisions, which are also key elements in a Mechanical Engineering degree.
Smart Factories are also a vision that some companies, such as Daimler, Bosch and Zeiss, are already implementing. Students of Mechanical Engineering will need the expertise and experience in progressive and modern factories to compete in the future job market. In a Smart Factory, the machines and systems operate based on Internet of Things (IoT), which is a network of devices, vehicles and other components that enable those things to communicate with each other and exchange data.
Career Options for Mechanical Engineers.
The scope of the Mechanical Engineering discipline allows students a variety of career options beyond some of the industries listed above. Regardless of the particular path they envision for themselves after they graduate, their education will have provided them with the creative thinking that allows them to design an exciting product or system, the analytical tools to achieve their design goals, the ability to overcome all constraints, and the teamwork needed to design, market, and produce a system. These valuable skills could also launch a career in medicine, law, consulting, management, banking, finance, and more.
Study with the Best
All of this and more is found at the Carl Benz School of Engineering, the Mechanical Engineering College of the Karlsruhe Institute of Technology (KIT). With our Summer School programs, high school students from around the world can attain first insights into the Carl Benz School and the B.Sc. of Mechanical Engineering (International) program. Come and meet us – and be the one to invent the future!