Connecting with talent in the Digital Age
Posted on 13th Nov 2018 in University Study, Spain Tweet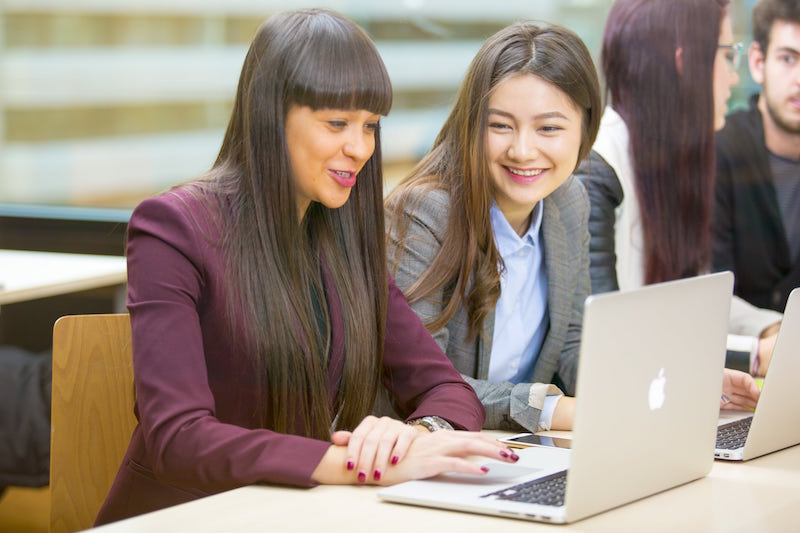 EU Business School is the perfect environment for emerging business leaders...

Recruiting top business graduates has evolved to become more sophisticated, refined and tech-driven than ever before. Top business schools throughout Europe are educating young, ambitious students who are keen to bring about meaningful change. They are taught to think faster than previous generations and to be comfortable with abstract ideas as well as traditional theories.
Thus, with the growth of new industries and the continued shift towards all things online, modern businesses must also adapt in their search for the very best candidates.
Innovative Education
EU Business School (EU) is at the forefront of this constantly evolving educational landscape. They employ the experiential learning model, which encourages students to immerse themselves in all aspects of business management. With a faculty made up of entrepreneurs, consultants and business leaders, as well as full-time academics, their students gain a broad perspective of what it takes to succeed in business.
Computer scientist Boris Bugarski studied at EU from 2014 to 2016. Shortly after graduation he was snapped up by Microsoft, who recognized his talent. "The ability to communicate and the technical knowledge gained from studying an MBA gives you an advantage in the workplace," Bugarski says. "Your employers know you're someone who has expertise and can be trusted to deliver results."
Bugarski believes that, in the age of digital business, a forward-thinking approach is needed. "Previously, people sought leaders specific to one area. Now you need to be an all-rounder," he explains. "The world is rapidly changing. Companies like Netflix have reinvented business models. Modern businesses need to understand how the new generation works."
Stand Out from the Crowd
Today's leaders also need to understand how to engage with talent. Social platforms provide an ideal space in which to connect with top candidates. With the opportunity to showcase abilities, knowledge and professional attributes online, a far more nuanced approach to recruiter-candidate communication can be taken.
Developing a strong personal brand online helps you to stand out in a crowded jobs market. At EU Business School, students are coached through seminars, workshops and skills sessions by a dedicated career services department, ensuring that they graduate fully prepared to capture the attention of employers online.
Students also need to master the more traditional networking techniques, perfecting their CV and honing their interpersonal skills. Prajakta Prabhune studied at EU Munich, where she enjoyed the support of EU's specialist careers team. "Career services helped me prepare my CV and cover letter in a German format in a professional way," she explains. "And it didn't stop there, I also got guidance on how to network and look for further opportunities."
After all, your online presence will only ensure that you get noticed. To make sure that you land the job, you will need to be able to demonstrate face-to-face that you have the knowledge and the skills that the employer requires.
The Global Classroom
Companies are now looking for globally minded, culturally knowledgeable graduates. The ability to build connections with an international group of people is an invaluable life skill and can also be used to great effect when leading an international team.
With campuses in Barcelona, Geneva, Montreux and Munich, EU Business School has cultivated an open and adaptive attitude among its students, making them more adept at making lasting connections. With over 100 different nationalities represented on campus, they can discover the business customs and daily life of a country that is culturally very different to their own without even leaving the classroom.
As a result, many EU alumni have gone on to play crucial roles in successful international businesses. Ricardo Gómez, who studied his bachelor's and MBA at EU Barcelona, believes this was paramount to his success. "The mix of students at EU gave me a global outlook and opened me up to meeting new people from different cultures," he explains. "You can't buy this kind of experience; one that enriches you as a person. This is the huge advantage of studying at EU."
Working in diverse teams in which a variety of views, customs and perspectives must be considered builds character, empathy and adaptability. These are fundamental attributes for graduates looking to forge a career in today's increasingly connected business world.
Flexibility is the Key
To get the best out of a new generation of adaptable, cultured and dynamic graduates, today's businesses need to show flexibility. Many top business schools have introduced online programs to complement their on-campus offerings, meaning that companies are able to entice the most talented graduates by offering them the chance to continue their development while progressing through the ranks.
The popularity of online learning has accelerated in recent years and studying remotely is no longer seen as an inferior alternative to on-campus tuition. Tanna Brodbar completed her Online MBA at EU Business School in 2016. "The EU online experience has been fabulous," she said upon graduating. "The technology is amazing – how it can enable me to tap into a seminar, see the recording and my classmates' comments if I can't attend it live."
Through interactive online seminars, group case studies and regular face-to-face events on campus, EU's innovative approach ensures that distance learning isn't a barrier to expanding your network.
"At EU, we believe it's very important that our online students have the same opportunity to network as on-campus students", says EU's online recruitment manager Saras Gil. "This is why, on the tenth week of every term, we invite our online students to join us on one of our campuses in Barcelona, Geneva, Montreux and Munich." Through company visits, guest speaker sessions and a fun social calendar, these on-campus weeks ensure that EU's online learners have the chance to build connections and feel part of the student community.
Top business schools such as EU are creating the perfect environment for emerging business talent by transforming the way we do business, learn and communicate. For modern businesses, it's a matter of working hard to identify and recruit the leaders of tomorrow - and then giving them a platform to perform.
For more information about EU Business School visit www.euruni.edu