COBIS schools celebrated at International School Awards 2019 ceremony
Posted on 22nd Jan 2019 in International News, International Education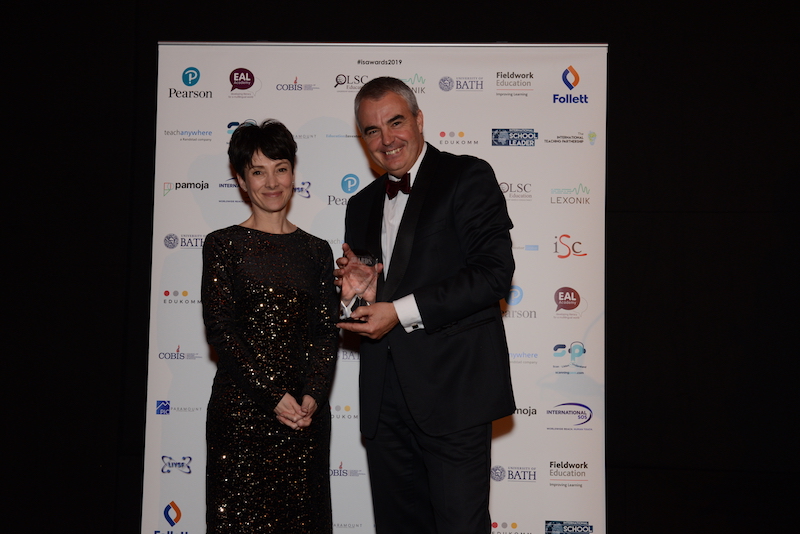 Winners of the 2019 International School Awards were celebrated at a ceremony in London last night, including seven COBIS member schools.
Over 200 senior leaders from international schools and education organisations around the world attended the gala event which was sponsored by Pearson, and hosted by International School Leader Magazine and ISC Research. The awards recognised a number of exceptional initiatives led by international schools globally.
Colin Bell, CEO at COBIS, said: "COBIS is absolutely thrilled that so many of our member schools received top accolades in the prestigious International School Awards across such a broad range of categories – including winning the overall International School of the Year Award 2019.
"This outstanding achievement is testimony to the global quality of COBIS school members, which are constantly raising the bar in terms of standards, and we would like to congratulate all winners.
"COBIS has recently launched the rigorous COBIS Patron's Accreditation scheme, focused on school improvement for international schools, which supports the highest standards of communication, child protection and individual pastoral/academic support. Through this scheme and several other COBIS events and initiatives, COBIS is taking the lead in encouraging and supporting all our members to achieve excellence."
COBIS school is overall winner for 2019
The International School of the Year 2019 was awarded to COBIS member school, British School Muscat, Oman. The school was a finalist in two of this year's categories which attracted over 230 nominations from international schools across the world.
British School Muscat won the award for the Outstanding Strategic Leadership Initiative for its teacher and teacher assistant training programme for Omani nationals, which provides professional development to British international school standards, for educators in the school and within the wider community. The programme has resulted in the successful appointment of eleven new Omani nationals at the school, and eight new interns.
The school was also a finalist for the Creativity in Learning Award as a result of its innovative 'Discovery Learning' teaching initiative which provides a child-centred, enquiry-based approach to children in Key Stages 1 and 2. Principal of the British School Muscat, Kai Vacher, received the overall International School of the Year 2019 award from Sharon Hague, Senior Vice President of Pearson.
More COBIS success
Six more COBIS schools took home awards.
British International School Riyadh received the Outstanding Community Initiative Award for its student-led support for over 600 refugee children in Lebanon which included the provision of learning resources and one-to-one digital links.
Alice Smith School, Primary Campus, Kuala Lumpur won the Outstanding Pastoral Initiative for its student-led positive playtimes initiative with Year 6 students developed as playground leaders supported by teaching assistants.
JESS Dubai received the Innovative Technology Through the School Award for its development of an automated live reporting system for parents.
The British School in Tokyo won the International Impact Award for its development of an off-site sports facility to enable links with schools and universities around Japan which promotes new sports including disability sports.
GEMS Jumeirah Primary School, Dubai received the Initiative to Support Wellbeing Award for its whole-school wellbeing programme including children, parents, staff and the community.
A special award was presented to Corona Secondary School in Nigeria which was a finalist in the Community Initiative Award for its student-led water borehole initiative.
The International School Awards aim to recognise and raise awareness of some of the very best initiatives being implemented by international schools today.
Photo caption: Principal of the British School Muscat, Kai Vacher, receiving the overall International School of the Year 2019 award from Sharon Hague, Senior Vice President of Pearson.