Carnegie Mellon University in Qatar welcomes Class of 2021
Posted on 24th Aug 2017 in University Study, Qatar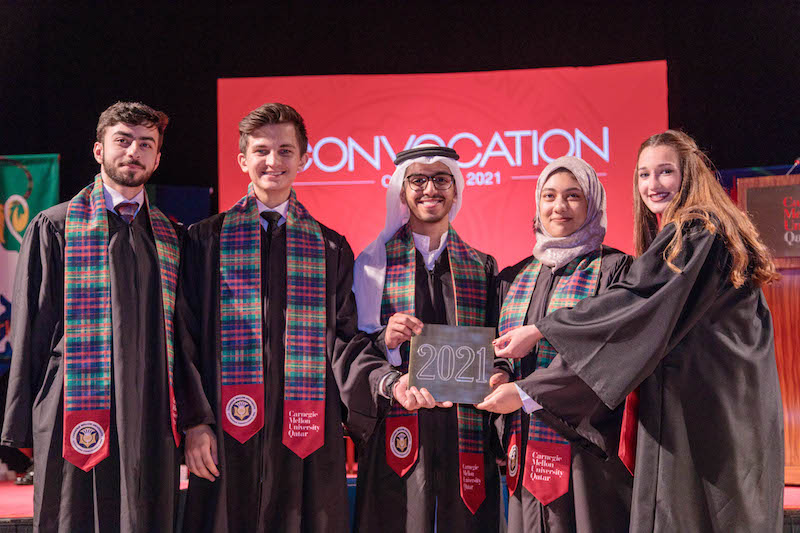 At Carnegie Mellon University in Qatar (CMU-Q)'s annual convocation ceremony, the leadership team, faculty members and current students welcomed the incoming class and offered them words of wisdom and advice.
"Class of 2021, you will add your unique mark to our global community. You are now part of this tradition, and it is my pleasure to welcome you to Carnegie Mellon University," said John O'Brien, interim dean of CMU-Q.
Following CMU-Q tradition, the Class of 2021 was presented with a tile engraved with their graduation year. The tile will be installed in the walkway of the CMU-Q building when the class graduates in May 2021.
For more information on programs offered at Carnegie Mellon Qatar, please visit; https://www.qatar.cmu.edu/academics
About Carnegie Mellon University in Qatar
For more than a century, Carnegie Mellon University has challenged the curious and passionate to imagine and deliver work that matters. A private, global university, Carnegie Mellon stands among the world's most renowned educational institutions, setting its own course with programs that inspire creativity and collaboration. Consistently top-ranked, Carnegie Mellon has more than 13,000 students and 100,000 alumni worldwide.
At the invitation of Qatar Foundation, Carnegie Mellon joined Education City in 2004 to deliver select programs that will support and contribute to the long-term development of Qatar. Today, Carnegie Mellon Qatar offers undergraduate programs in biological sciences, business administration, computational biology, computer science, and information systems. More than 400 students from 40 countries call Carnegie Mellon Qatar home.
Graduates from CMU-Q are highly sought-after: most choose careers in top organizations, both in Qatar and around the world, while a significant number pursue graduate studies at international institutions. With ten graduating classes, the total number of alumni is nearly 700.
Twitter: @CarnegieMellonQ
Instagram: @carnegiemellonq
Facebook: CarnegieMellonQ
YouTube: CarnegieMellonQatar