Building for the future
Posted on 15th Aug 2018 in School News, South Korea Tweet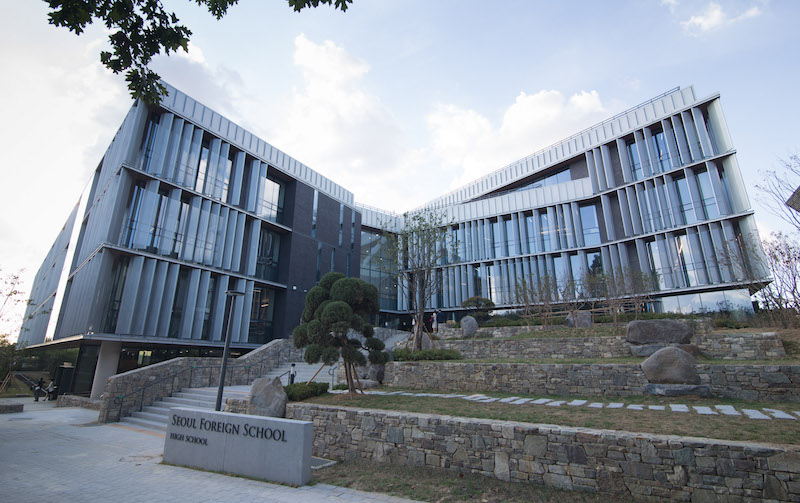 August 2018 marks a new beginning for Seoul Foreign School when it opens its new High School building, bringing to an end a decade of planning and discussion
History of SFS
Seoul Foreign School has been the leading international school in Seoul for over a century. It was established in 1912 to serve the children of expat families and has survived and prospered ever since. From very humble beginnings in a single classroom we are now one of the largest schools in Seoul with a 25 acre campus housing 1450 students and over 200 faculty. The school comprises an Elementary, Middle and High School and also a British School. We offer both the IB programme and the English National Curriculum.
We are a truly International school with over 48 nationalities represented. We aim to offer an excellent academic and holistic education to students whether they come to us for their whole education or a short period during a posting to Korea.
Continual Development
One of the most important things at Seoul Foreign School and something that sets us apart is the continual updating of our various schools. On our current campus we are always planning for the future and building where necessary. A decade ago we built a new Elementary School and almost immediately we looked to see where the needs of our school could best be met next. The answer was in our High School.
We decided that we needed to update our facilities to provide the best surroundings for those crucial four years where students in Grades 9–12 study for the IB Diploma. We have a history not just of sending our students to the best universities around the world but also of sending them as well rounded young adults ready for the next stages of their lives. To prepare them for these increasingly complex challenges we decided they needed a modern, fully functional new High School building where we could implement new teaching practice and really demonstrate our commitment to being the best.
Initial Plans and Board Decisions
The SFS Board began their new Master Facility Plan back in 2011. They set out plans for a state-of-the-art High School building and began ensuring that these plans would become reality in an efficient and timely fashion. The school had to meet the educational needs of the students; it had to work efficiently and within Korean planning guidelines. We wanted it to be "green" with sustainable features and it had to look good.
Peter Choi, SFS Board member and Building Committee member says "We were not just in need of a larger facility but really a new 'home' for our High School that embodied the school's mission statement and ethos in a physical way. First and foremost was a facility that would nurture and allow for community building not just among students but also between students and their teachers. Next was a demand to create learning spaces that allowed for best teaching practices in step with current technology and learning methodology. We also needed a physical space to allow the High School to grow."
This last point is crucial as the demand for a place in Seoul Foreign High School is great. Last year 122 High Schoolers graduated from our school.
Development
The school appointed architect firm ENNEAD NY. They are long established and have worked on many educational spaces around the world including Yale University Art Gallery; Stanford Law School – William H. Neukom Building; Frank Sinatra School of the Arts, New High School Building, New York, NY; The Pennsylvania State University; Dickinson School of Law; and many, many more. We are in illustrious company! ENNEAD worked with local builders and architects and ground was broken in April 2017.
The building work involved an onsite project manager working with ENNEAD and with local firm Doosan. Construction teams worked seven days a week to stay on schedule and meet the demands of such a detailed plan. They created a suite of science labs; classrooms; arts centers; media labs and multi-purpose spaces. Attention was paid to aesthetics and we have a beautiful terrace, zen garden and a rooftop terrace. We also installed solar panels to make sure the building uses sustainable energy where possible.
Opening
Our building opens in August 2018 and will house almost 500 students. Our experienced and motivated faculty come from around the world to teach in Seoul giving all our students a global outlook. When they graduate they will take with them a wealth of experience gained here in Yeonhui-dong, Seoul!
We call this Building For The Future. We planned and created this development years ago for the benefit of today's students and today we start thinking about what will best benefit our students of tomorrow!
It's a new building but the heart of Seoul Foreign School remains the same. In the words of Jeff Holcomb, High School Principal: " The most important ingredients – the heart and soul of SFS – will simply move to a fantastic new location. Our hard working students, driven to serve and demonstrating character. A caring faculty who provide exceptional support and deliver challenging lessons - in and out of the classroom. And a strong support network of parents, alumni and friends of SFS. We will continue to be exceptional!"
One of the new High School students Joanne Lee (entering Grade 9) adds "It's so good that we are the first ones to start High School in this brand new building. It's very special… We don't feel sad to say goodbye to the old, just happy to have this opportunity!"
For more information see Seoul Foreign School's profile or email jane.forster@seoulforeign.org