An IB education empowers young people to engage with global challenges through inquiry, action and reflection
Posted on 25th Sep 2020 in School News, Italy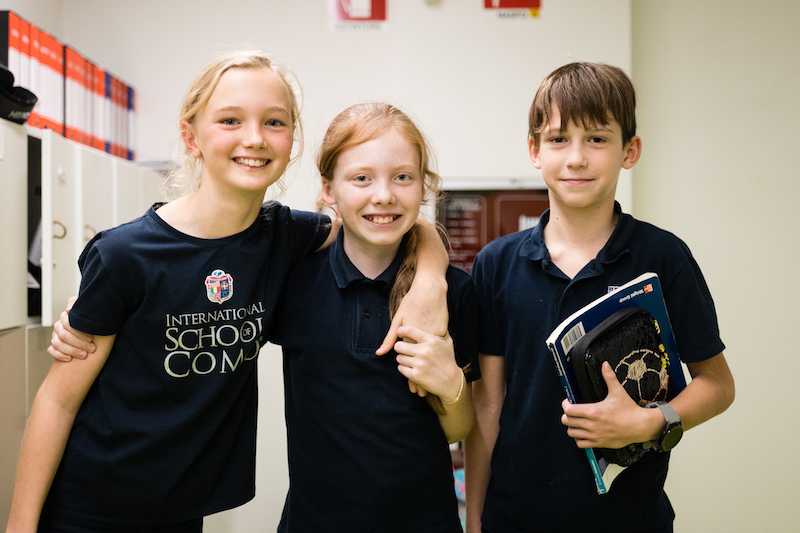 Emanuela Ferloni, Inspired Education advisor for St. Louis School (Milan, Italy), reflects on the benefits of the IB Programmes, a curriculum she mastered during her 12 years of headship of the International School of Como. The school is a member of Inspired Education Group, the largest group of IB schools in Italy.
Being part of a wide learning community such as the Inspired group of schools, has reinforced my enthusiasm for life-long learning and for those values and principles that became my lighthouse since I joined the IB community back in 2003 as an educational leader. Inspired is now the largest group of IB schools in Italy.
At the centre of our schools are our students aged 3 to 19 with their own learning styles, strengths and challenges, with their own combinations of unique and shared patterns of values, knowledge and experience of the world.
Across the IB continuum, we strive to promote a culture where open communication based on understanding and respect is a shared value, and where becoming active, compassionate, lifelong learners is a shared goal.
Our leaders, teachers, educators and students are empowered to become agents of their own choices, focused on a holistic approach to learning that addresses the academic development as well as the social, emotional and physical well-being. Our teachers are intellectual leaders who can empower students to develop confidence and personal responsibility.
The networking of our schools, that share IB values and practices, but at the same time maintain their own identities and history, is an amazing opportunity for pedagogical discussions, sharing best practices, action research and teamwork. This is how we role model the fundamental IB attitude that encourages healthy relationships, individual and shared responsibility, effective teamwork and high level of collaboration. I believe that this professional learning community has greatly contributed in creating a culture for ongoing improvement in each school of the group.
An IB education empowers young people to engage with global challenges through inquiry, action and reflection. It is wonderful to see a Diploma Programme student of the International School of Monza leading and opening opportunities for all our students to meet and debate at an MUN conference.
The Creative Month rich of artistic initiatives for all ages at the International School of Como is a brilliant example of how an IB education fosters creativity and imagination. It offers students opportunities for considering the nature of human thought and for developing the skills and commitments necessary to analyse and refine the products and performances that grow from them.
Working groups among teachers of the International Schools of Milan, Monza, Como, Bergamo, Modena and Siena are researching on metacognition and how the IB programmes emphasize learning how to learn, helping students interact effectively with the learning environments and encouraging them to value learning as an integral part of their everyday lives.
Some of our schools offer a bilingual or multilingual approach. I see committees and working groups beyond the IB curriculum researching on the power of bilingualism and multilingualism. In the majority of our schools, the main language of instruction is a second language for many of the students. Research shows how language shapes our thinking and develops a personal and cultural identity. Early opportunities for second language literacy development across the curriculum are certainly important for the development of language competence but most of all for shaping a different way of learning, to affirm the identity of each learner and develop intercultural awareness.
In our classes multilingual education is seen as a fact, as a right and as a resource to promote intercultural awareness and international-mindedness, every teacher is a language teacher. We want our students to potentially become highly proficient, literate and knowledgeable multilinguals.
For the next academic year, I am particularly excited with my new role of providing strategic support to strengthen bilingualism at the prestigious St. Louis School in Milan. I am a passionate believer in the power of a bilingual education. At St. Louis we teach our learners to be bilingual not by offering one language at the expense of the other but by actively supporting the development of both, while striving for excellence. Research findings show that the use of home language is an essential part of a bilingual education as it ensures that students' cognitive development continues and expands alongside the learning of a new language. The benefit of providing a rigorous bilingual or multilingual approach to learning far outweigh the challenge of setting it up while providing a rich variety of resources.
In the IB learning communities, students, teachers and educational leaders are life-long learners, they are keen on welcoming new challenges for professional growth. Within the Inspired network, educators are encouraged to exchange ideas, projects and to grow professionally embracing roles of responsibility and leadership in different schools across the globe.
Students growing with the IB programmes develop those qualities, attitudes and characteristics identified in the IB learner profile, they become responsible and internationally-minded citizens of the world. IB students within the Inspired network are offered numerous opportunities for student exchange, international summer camps, arts or sports intercultural projects that help foster their international–mindedness and understanding of the world.
Finally, at the end of a rigorous and exciting IB journey, from our IB Diploma Programme schools we are sending out fantastic individuals equipped with powerful sets of skills and values, able to think and collaborate across cultures and subjects, engaged in discussing local and global issues, experienced with CAS – Creativity, Activity and Service – projects on solidarity and sustainability, and empowered as agents of their own life.
Here is a comment from one of our DP graduates"The IB has taught me to learn independently, to think critically and to reflect on myself, providing me with a toolkit that I can always use to better myself, and it gave me the skills to write a sentence like this. After graduation I plan to get a bachelor's degree in Computer Science in the UK, find a job, and then come up with a new plan "
This article first appeared in John Catt's Guide to International Schools 2020/21, which you can view in full here: