A new spiritual heart of Wesley College, Glen Waverley: The Drennen Centre official opening
Posted on 8th Nov 2019 in School News, New facilities Tweet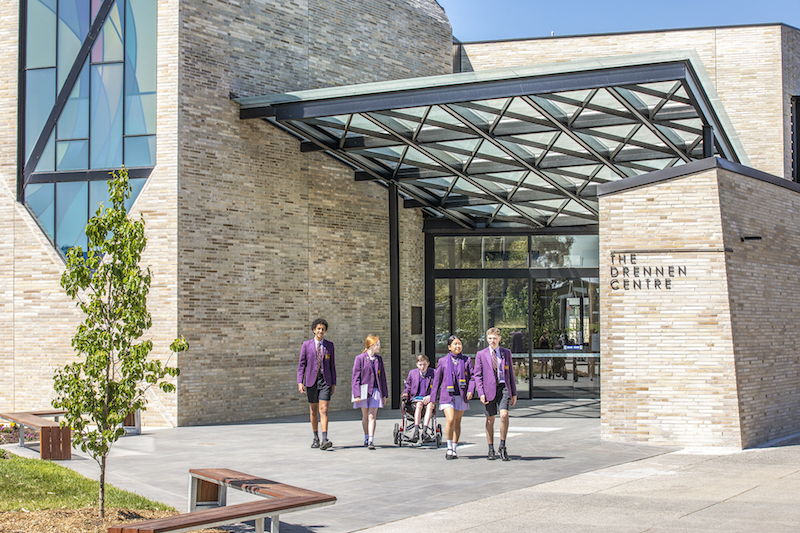 Wesley College will officially open The Drennen Centre at the Glen Waverley Campus on Friday 15 November at 9.30am.
Located in the centre of the campus, The Drennen Centre is named after Wesley's first female Principal, Dr Helen Drennen AM, who concluded her tenure in 2018.
The Hon. Linda Dessau AC, Governor of Victoria and husband Anthony Howard AM QC, will open the building, along with Marianne Stillwell, Wesley College Council President and Mr Nick Evans, Wesley College Principal.
For the first time, Wesley College's Glen Waverley Campus will feature a dedicated Chapel, at the heart of the campus.
The Chapel is especially meaningful to Ms Ev Kreppert, a long-serving former Wesley teacher, who made the first donation in 2008 for a spiritual meeting point for students and staff from all religious backgrounds to congregate.
'I told Helen Drennen at the time that the campus would not be complete without a chapel and so I made an initial donation to assist the future funding of the chapel,' Ev Kreppert said.
The Drennen Centre provides a centralised learning space for students and replaces classrooms and school spaces lost to a fire in 2016.
'The redevelopment represented an opportunity to expand our student-centred facilities and incorporate cutting-edge technology.
The Chapel, the new whole-campus library, the collaborative learning hub and the Year 9 precinct have been much-anticipated additions to the Glen Waverley Campus,' Mr Nick Evans, Wesley College Principal, said.
The Year 9 precinct within The Drennen Centre is a dedicated space designed specifically to meet the needs of adolescents at this important stage of their development.
It supports students to cultivate independent study habits, prepare for their transition into the Senior School (Years 10–12) and continue the sense of independence and responsibility they have cultivated from the Year 9 Clunes residential learning program.
Designed by award-winning architects, Cox Architecture, the three-level redevelopment is a new learning centre that is now the focal point of campus and includes:
a spacious whole-campus library with dedicated resource areas for Junior, Middle and Senior School students, break-out areas, reading spaces and study rooms
a new Chapel, with striking façade
The Charlaftis Collaborative Learning Hub, a high-tech learning space and mini-theatrette designed for flexible learning
a student-centred Year 9 precinct dedicated to preparing students for transition into Senior School (Years 10 – 12)
language classrooms fitted with acoustic and audio-visual equipment and specialist English Language Preparation Program classes
The state-of-the-art student facilities further enhance Wesley's position as a leading International Baccalaureate World School.
'Cox Architecture consulted with staff and students, designing a modern and flexible space which very much aligns with contemporary ways of learning and teaching practices,' Mr Evans said.
'The Drennen Centre has increased the school's capacity at Middle School, and we're able to offer a new scholarship for students who would benefit from the holistic opportunities at Wesley.' Mr Evans said.
The Glen Waverley Middle School Expansion Scholarship is available to students entering Years 5 or 7.
Wesley College's Glen Waverley Campus delivers unique learning opportunities, with full-time and weekly boarding options available.